Bringing people together,

in a good way,

is the

BEYOND THE BOX

™

sweet spot.
Beyond the Box
™

offers unique 'experiential' workshops and creative seminars which allow participants to learn practical ways of doing things differently.
Beyond the Box was a very engaging and interactive experience and was presented by equally engaging instructors in a very organized, concise, entertaining and FUN manner. My team and I thoroughly enjoyed our session and learned so much, not only about each other but also about the importance of trust, how we all work together as a team, and the power we hold when we work together. Thoroughly recommended!
Dawn Hatanaka
Executive Director
Obesity Canada, University of Alberta
We invited Beyond the Box to help us spark creativity and facilitate innovative thinking across the department. Our team enjoyed the session and was given new tools to help us create a positive and creative work environment. Bob and Lola were engaging throughout the session and added a bit of humour, making it a fun morning for all!
Megan Vaughan
GSK
Director Clinical Operations - Canada
Lola Rasminsky and Bob Presner from Beyond the Box were an absolute pleasure to work with. They developed and facilitated a full-day workshop that was just what members of the Department needed to maximize our potential as a high-functioning and cohesive team. This was particularly important as we had been working remotely during most of the pandemic and, during that time, had several new team members, many of whom had not met anyone in person until the day of the workshop. As a result, we all left the workshop feeling inspired, refreshed and better connected than ever.
Mary Forhan
Chair, Department of OS and OT
Temerty Faculty of Medicine, University of Toronto
Bring out the best in your team
Find out more about beyond the box workshops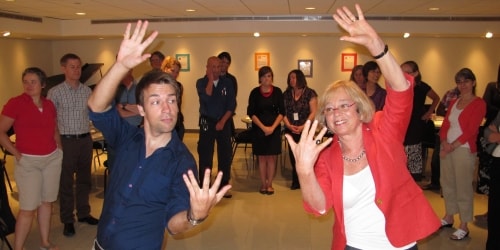 ---
Build a positive workplace
Help resolve conflicts as quickly as they flare up
Enable individuals to express themselves openly
Learn to see others' viewpoints
Improve communications